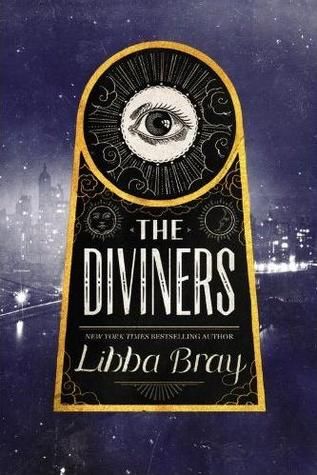 Los Angeles, CA – April 19, 2013
When I first heard that the Los Angeles Dumbledore's Army Book Club (which is so far the only book club I actually get to attend on a regular basis) had picked The Diviners
as the book for February I was instantly taken back to high school when I watched my big brother in the play The Diviners by Jim Leonard, Jr. And then I saw who the author was.
Libba Bray!!!
I read all three of the The Gemma Doyle Trilogy. I fell in love with those books. My friend Des, who I think I have mentioned before, lovingly, as my literary crack dealer, introduced me to the series. We had been wandering around Barnes and Noble, waiting for Harry Potter and the Half-Blood Prince (Book 6)

and we were looking for something to read while we were waiting for the midnight release.
After finishing Harry Potter, which of course I adored, I started to read the first of the trilogy, A Great and Terrible Beauty. It took me a while to get in to, but after a couple of paragraphs, I was hooked. And then had to get the other books of course!
So when I saw that The Diviners was written by Libba Bray, I was so excited! Sadly, I didn't read the book for book club because I wasn't able to go. My mother came home from 4 months in the hospital/rehab after colon cancer surgery and I didn't read anything for a couple of months.
But after finishing the last book club book, The Shadow of the Wind I was in such a reading mood that I felt I needed to read something of the same caliber. I came across The Diviners sitting there unread in my Nook. So I started reading it.
And once again, Libba Bray was able to transport me to 1920's New York City and all of the flapper language and hot jazz being blown in Harlem. As well as what exactly "the Diviners" were. Now, I'm not going to tell you what they are or who they are, but I'm here to tell you that the story built around them was intriguing, fascinating and a little scary. Okay, well, not scary for someone who reads The Exorcist by William Peter Blatty and the most awesome Stephen King. But it was a bit creepy. And again, I was totally entranced by the language she used to describe things. So eloquent and so evocative of the images she masterfully wound in to my head.
To give you a brief overview of what the book sis about, the best description comes from Libba's own website:
"Evie O'Neill has been exiled from her boring old hometown and shipped off to the bustling streets of New York City—and she is pos-i-tute-ly ecstatic. It's 1926, and New York is filled with speakeasies, Ziegfeld girls, and rakish pickpockets. The only catch is that she has to live with her uncle Will and his unhealthy obsession with the occult.

Evie worries he'll discover her darkest secret: a supernatural power that has only brought her trouble so far. But when the police find a murdered girl branded with a cryptic symbol and Will is called to the scene, Evie realizes her gift could help catch a serial killer.

As Evie jumps headlong into a dance with a murderer, other stories unfold in the city that never sleeps. A young man named Memphis is caught between two worlds. A chorus girl named Theta is running from her past. A student named Jericho hides a shocking secret. And unknown to all, something dark and evil has awakened."
I mean come on! Does that not sound AMAZING? Well, I'm here to tell you it was! Learning about all of the lives of the characters, Evie, Jericho, Will, Memphis, Theta…they are all hiding secrets and some of them we find out, and some of them we only get a hint of, which makes you want to read the next book. Which, sadly isn't out yet. And from Libba's website? There is no release date for it. Which is only going to make me keep checking her twitter and her website until I know the next installment is coming out! Please hurry Libba! I'm pos-i-tute-ly dying for more!!!!
This series hits all my buttons: Young Adult fiction, the supernatural, eloquent writing, historical fiction, the occult, oh and did I mention the supernatural? Yeah, I'm a junkie. And Libba knows how to bring the occult to life in this curious tale of random people connected by a great evil.
Trust me, It's jake!
And if you want to read more, check out What A Nerd Girl Says Book Of The Week where she also reviews this awesome book!
Bazingirl
Grand Master Blogger
Share and Enjoy