Image from sodahead.com
May 26, 2013 — Los Angeles, CA
I'm not one to read much non-fiction, though occasionally a book piques my interest enough to deviate from my norm of mostly paranormal/fantasy/sci-fi novels.
This book in particular caught my eye for several reasons. The first being that my aunt sent it to my mom who read it and then passed it on to me.
The second is that I have been hearing Vegas stories all my life because my uncle (my aunt's husband) was a high roller in Vegas during the 60's and 70's. I don't personally think he had mob ties, but he came from New Jersey, and was a huge gambler so chances are he knew some mobsters.
Being a high roller, he was comped everything, everywhere. And when my parents were lucky enough to join him, they got comped too. I loved hearing the stories about my uncle. How he carried enough money in his wallet to buy a Cadillac, and did once. I loved hearing the story about how he drove his Harley up to the door of the Sands casino and was told by the valet that he couldn't park there. My uncle said to the poor valet, "son, go get the pit boss." So the kid did. When the pit boss came out, he said, "Son, this is Mr. C. If he wants to ride his motorcycle up and down the casino floor, you will hold the door open for him."
That's the kind of clout my uncle had in Vegas. He could walk in to any casino and get a table at any show, any time, even if they were "sold out" or wouldn't let people in to the show after it started. In fact, you can read a short story about him in Lost River Anthology: Rites Of Passage
. My aunt's son-in-law, Richmond Shreve, retells a great story, which is 100% true btw, called "The Junket," where he describes going off to Vegas in the 70's with my uncle and what that experience was like. It's an epic tale. And it shows the way my uncle treated friends and (soon to be) family.
Third, my dad, who was a member of a quartet during this time, also worked in Vegas as an entertainer for a while. I know he opened for Eartha Kitt on several occasions. My mom used to shill at the Silver Slipper, which is no longer there of course. Now for those of you who don't know much about casinos, a shill in terms of gambling, is a gambler who plays using the casino's money in order to keep games (especially poker) going when there are not enough players (thank you Wikipedia). The casinos always want to look like they have people gambling, so they hire people to play with the house's money to make it look like a casino is busier than it actually is. That's what my mom did while my dad was performing in Vegas.
So, you can see why this kind of a book would interest me.
When the Mob Ran Vegas: Stories of Money, Mayhem and Murder
is a fairly mediocre book written about an amazing time in American history. Now don't get me wrong! It's an entertaining read, and I'd recommend it, you just have to get past the fact that the book can't seem to decide if it's a chronological accounting of what the mob did in Vegas or a book of short stories told in a mostly chronological order.
I found it fairly easy to ignore the repetition in lieu of the fascinating stories that Mr. Fischer was telling.
His book came to fruition because he started selling Vegas memorabilia on ebay, and with each piece, there was a story. It seemed that people were more interested in the stories sometimes, than the actual article for sale, so, Mr. Fischer dug into research and published this insider's view to the Las Vegas of old. You can see how many of the Vegas mobster movies, like Casino, take after real life pretty damn well, and other movies, not so much.
I think my favorite set of stories are the ones about Frank Sinatra and the Cal-Neva Lodge. I'd never even heard of this lodge before and I found the whole thing truly fascinating. It takes the image of Mr. Sinatra to a whole new level for someone who grew up watching his old movies with their parents. I mean, he has stuff in there from the actual FBI files on Frank! It's pretty amazing!
I also loved the personal story at the very end about Mr. Fischer and his wife meeting the incomparable Sammy Davis, Jr. Not only was the man one of the most spectacular performers of his age, he was genuinely a very, very nice man.
All in all, this was a fun, fast read, and if you have any interest in the Vegas of old, the history of Vegas, or mobsters, check this book out.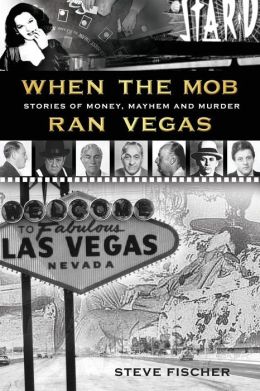 Image from Barnes & Noble
Happy Reading!
Bazingirl
Grand Master Blogger
Share and Enjoy