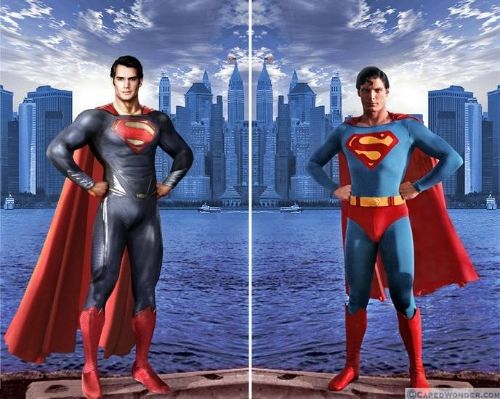 Image Credit: capewonder.com
June 13, 2013 — Hollywood, CA
I have never been a fan of comparing. You don't compare da Vinci to van Gogh, any more than you compare Mozart to 2Pac. All of these artists are expressing their own personal viewpoints in their unique way which was mostly influenced by their individual time period. This is why I feel is it truly unfair to compare films or film makers. However to please all of those diehard Superman fans, I will make this one exception. I will try my best to avoid giving up any spoilers. I present Donner's Superman vs. Snyder's Man of Steel. Let the Superman Celebrity death match begin now!
Retelling vs Re-imaging
We haven't had a respectable Superman movie since the 80s. I think the biggest mistake that Bryan Singer did with Superman Returns (2006) was trying to retell or duplicate what Donner did almost thirty years earlier with a new cast and new film and we all know how that worked out. Snyder took the opposite approach with MoS (Man of Steel) and completely re-imaged everything from the look, tone, and pace of the film. This is a different Superman that we have ever seen.
Story
The story for MoS is kind of a combination of both Superman I and II. MoS begins with the destruction of Krypton as well as the trial of General Zod, but unlike Donner's Superman, MoS goes in-depth on the world of Krypton, the politics and the Kryptonian society, and gives Zod a new direction and purpose that I can't reveal without giving up too much. In MoS what happens in the first ten minutes sets the foundation for the entire film. Where in Donner's Superman, the trial of Zod and the destruction of Krypton only plays a small part in Superman's character and story arc. This was great but I feel like it took away from Clark/Superman's story. Donner's Superman is like a Journey love song, (Clark Kent is…) just a small town girl boy, living in a lonely world. Who moves to the big city and grows up to become someone great. It's like the ultimate underdog story but with superpowers.
Winner: Donner's Superman
Tone
Donner's Superman story was written by this guy by the name of Mario Puzo, who was also famous for this other set of movies called The Godfather, maybe you have heard of it. MoS was story written by David S. Goyer and Christopher Nolan and perhaps you have heard of them too, their last two movies only grossed $2.3 Billion. Anyway, the tones of these two movies couldn't be more different.
One of the biggest complaints about Donner's Superman was the portrayal of Superman as Jesus, even adding the line from Jor-El: "They can be a great people …For this reason above all, their capacity for good, I have sent them you my only son.. The tone for MoS is like watching Deadliest Catch or Ice Road Truckers. Clark Kent spends half of the movie running away from who he is and really trying hard to disappear. He's more David Banner than he is Tom Welling's Clark Kent.
Winner: Man of Steel (Snyder lives up the title of Superman's first comic – Action Comics)
Actor – Superman
Christopher Reeve vs. Henry Cavill
This is a tough one. Again, I don't like to compare. Christopher Reeve was our first real Superman. He set the tone and new standards for what we view as a superhero and till this day we will consistently use his Clark Kent/Superman portrayal as a measuring stick for all other supermen or superheroes in general. This is why it is so hard to compare any actor to him, which seems an impossible act to follow, but Henry Cavill gets it. He's got the strength and charisma and soulful eyes.
As Superman, I give him a "B-", but as Clark Kent I would give him an "Incomplete". I felt that he did a decent job but again this is a different Clark Kent. He still hasn't found himself yet, and his dual identity hasn't been established yet. So I guess we will have to wait until the next movie to see if Cavill is able to pull off the purposely clumsily, shy yet lovable nerd that Christopher Reeve portrayed so masterfully.
Winner: Donner's Superman (You will always remember your first Doctor, and Christopher Reeve is Superman)
Actor – General Zod
Terence Stamp vs. Michael Shannon
First of all you must understand that these are two completely different portrayals of Zod. Their story and motives are completely different when you compare Donner's Superman to Snyder's MoS. So, it's like comparing Jack Nicholson's Joker with Heath Ledger's Joker.
I feel that Terence Stamp's Zod was more like the comics and more of a caricature, a very well done caricature, with his dark obsession for power and respect. Michael Shannon's Zod was more reality based, more grounded. He has relatable motives and the story gives us more of an insight on who he is and why he turned on his people.
Winner: Man of Steel (I feel, Michael Shannon just had a lot more story to work with)
Overall
We live in a different world now and our heroes must evolve just as we have. Yet, the essence of Superman is still there. Superman is the person that all young boys dream of being when they grow up: strong, fearless and willing to give his life to protect the innocent and those who don't have the power to stand up for themselves. In Man of Steel, Superman reveals that the "S" on his chest isn't for Superman. "On my world it means hope," quotes Superman. Since America was built on hope, even with a British actor playing him, Superman is still more American than ever. (Insert here: Hulk Hogan Theme music – Rick Derringer's I Am "A Real American").
Donner's Superman is a classic but I don't think anyone will be disappointed with Man of Steel. Even if you have never seen Donner's Superman, Man of Steel will be a blast, and if you are a hardcore fan, Man of Steel will still surprise you and help to add to the Superman legacy. I'm already planning to see it a second time.
Overall winner: Donner's Superman, but both movies are great.
Man of Steel gets 3 out of 4 shields



Ryan Isreal
Padawan Blogger
Share and Enjoy