February 6, 2013 – Los Angeles, CA
As a nerd, a big one, I am so excited to post an EXCLUSIVE interview with Ivan Van Norman, a contestant on the new TBS hit show KING OF THE NERDS!!!!!! That's right! Because of a need to get my poor lap top fixed, I was introduced (online and via phone) to one of the coolest cast members of the show! Small world right? But let's face it, all of the cast is amazingly cool. They're nerds! How could they not be!
If you haven't been watching the show, you really should be. It's a great contest/reality show with the most awesome hosts, Robert Carradine and Curtis Armstrong, which for many geeks my age is an amazing homage. If you younger generation are not familiar with them, they were both in Revenge of the Nerds, which came out in 1984. Yes, I remember seeing it in the theater. I have been a geek that long. Having those two hosting a nerd based reality show was what got me watching, let's be honest. That and it premiered after reruns of my favorite geeky TV show, The Big Bang Theory which shows it's new seasons on CBS, Thursday nights at 8.
11 Nerds have been selected to live in Nerdvana.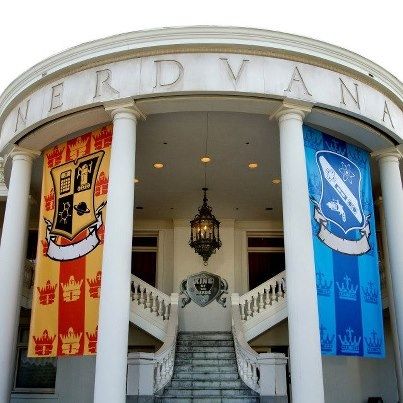 The inside is even cooler than the outside, and you need to watch the show to see more of the house!!! You can do that, even if you don't get TBS, but going to their website (the link is above) and watching episodes online. Trust me, it's totally worth it!
Now, as I said, I was able to interview Ivan, who was picked as the "Captain" of the Orange team which was then named Servants of the Forsaken Orb to compete against the Blue team, who christened themselves Blextrophy.
So, on to the main awesomeness! Here is my Exclusive Interview with Ivan!!!
Bazingirl: What was your favorite thing about living in Nerdvana?
Ivan: The people! Everyone was so interesting, they had so much to offer the competition and each had their own unique story of how they came onto the show. It was fascinating…. that and the Dragon heads in the main room. I wanted to take them home…so bad.
Bazingirl: Did you get to bring anything from Nerdvana home and why did you pick that item(s)? 
Ivan: We may have to wait on details about that, but I was allowed to bring home a few choice 'trophy' items from King of the Nerds 😉 
Bazingirl: Did you find the Cos-Play nerd war to be your shining moment, or can you not talk about that yet?
Ivan: I really enjoyed ep. 2 so much, because as soon as I heard the challenge my first thought was 'ok, story time… let's do this' Plus, we got FANTASY VILLAINS, how awesome was that? I actually provided the team with 3 different options and we all voted on the 'sacrificial cult route to resurrect a Elder God route.' The great thing about having a back-ground in Pen and Paper RPG [Role Playing Games] design is that a GM [Game Master] is often required to 'think on the fly' to make something work with his players. Had I not some of the background I had in that field, I may have gotten nervous and buckled.
Bazingirl: How did you get picked for King of The Nerds?  What was the audition process like?
Ivan: It was very long… and a lot of ups and downs. I was recruited while doing a job interview at a local game store, and then was asked to submit videos which they had to approve. I didn't technically know if I was going to be on the show or not until about 2-3 weeks before shooting!
 
Bazingirl: What's the best RPG character you've created?
Ivan: Oh, i've had a lot… let me think. I really like my "Werewolf Social Worker" NPC [Non-Player Character]I had in my World of Darkness campaign… he worked all day with troubled families, and then helped smooth things over in the spirit world by night. He was always haggard, tired, but willing to lend a hand. Then there was a Wizard/Paladin I created in Ultima Online who was the Arch-Bishop of the "Church of Dragons" I sunk 1,000's of hours into, we held sermons on Sundays and Thursdays and often was raided by orc parties (which we scheduled before hand). Then there is also all the great cast of the "Tri-County Police Station" we have for Outbreak: Undead! Coughlin the rookie who has to be closely watched by the grizzled vet, Sammy the on-call nurse and girlfriend of the rookie, Cy the Survivalist thrown in the night before from a drunken riot, Tyler the Correctional Officer who is in town to pick up a known felon for transfer, Krazinski the Detective and acting superior of the police station at the moment of crisis, and the Felon who knows the true secret behind the Outbreak…
    
Bazingirl:  What character have you created that is most like you?   
Ivan: I don't often create characters that 'act' like me, but I do like ones that have the same morals and ethics I hold. Just the means in which to enforce them more often 🙂 I find myself often creating a 'lizardman' style of character for a lot of games. I usually call him "Ta'loska Vabora" and he is usually either a Druid type (I am very spiritual, not 'religious' really… but spiritual), or a Martial Artist (I took about 8-10 years of martial arts before moving away to college).  I've used him in Skyrim (Argonia), Pathfinder (Lizardman), StarWars (Trandoshian), and D&D 4.0 (Dragonkin).
 
Bazingirl:  Do you regularly hang out with the other cast members on the show?
Ivan: Actually yes! About 5 of us are in LA, and we've been spending a lot of time together with each other lately. It's been a real awesome experience to follow up and meet the people you got so close with outside of the structures of Nerdvana 🙂
 
Bazingirl:  Which cast member surprised you the most and why?
Ivan: You know, everyone surprised me in one way or another. The best way to shine I feel is to help others with their own desire to shine. Celeste had a lot of things she was going through at the beginning of the show, and I was surprised and elated to see her go through it. She was a very shy girl who did not deal with performances very well, yet she was able to conquer that and make it a part of who she was.
Bazingirl:  What was the inspiration behind Chicken Panda and can we expect to see more of him in the future?  Cuz, dude, srsly, I totally have a crush on Chicken Panda!
Ivan: Chicken Panda! Oh man, that is a deep, multi layered inside joke that seemed to just explode onto the screen. A few days before the challenge, we had some downtime, and the team needed some cheering up, so I put on Danielle's Panda Hood, and put on a Chicken Beak that I brought with me and introduced myself as Chicken Panda. You see, he is a southern gentlemen who enjoys telling people "Exactly how Chicken Panda feels… Chicken Panda". Everyone thought he was such a riot, we continued to make jokes about him, over and over again. Once we had tested our fliers to their maximum potential, we still had a bout a hour to kill, so we thought "Why not have a SFO's Mascot for the challenge?", "yeah but what would it be?"… "CHICKEN PANDA!" so we made the loudest, most uncomfortable, and bright costume we could find that was leftover from EP. 2 and lo and behold. Chicken Panda was born.
Bazingirl:  Has being on the show made you a chick magnet??
Ivan: Well, all I can say is that people have been very nice to me. Even when my bare chest was shown with 'fake painted abs' on the TBS' website, people still had wonderful things to say about my presentation on screen. For that I am very thankful, and appreciate the enthusiasm of #teamivanftw 🙂 
Well, there you have it! An exclusive interview with Ivan! Thank you Ivan so very much for being such an AWESOMETASTIC Nerd! And of course, he wouldn't tell me who won, so like you, I'll just have to watch and route for my faces!!! #teamivanFTW!
You can watch all new episodes of King of the Nerds on TBS, at 10/9 Central. Check your local TV guide for channel info!
Bazingirl,
Grand Master Blogger
*All images are property of TBS and were found on Google.
Share and Enjoy