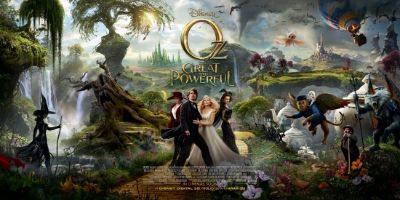 Image from Google Images
March 5, 2013 – Hollywood, CA
I was invited to a screening of this movie by a friend, and I decided I HAD to go. The Wizard of Oz, the 1939 movie starring the much beloved Judy Garland, was a movie that shaped my childhood. I had been scared to death of the Wicked Witch, brilliantly played by Margaret Hamilton. In fact she almost ruined her career because she was so effing scary as the Wicked Witch. She's pretty damned perfect as a wicked witch.
Okay, she might not look as scary as say…the demon possessed Linda Blair in the Exorcist, but still, to a 4 year old, she's pretty damned scary.
So yes, when this movie came out, I needed to go see it.
I got to see it days before it opens, which is Friday, March 8, 2013 in theaters across the country, thanks to Hero Complex a section dedicated to geeks and nerds everywhere in the Los Angeles Times.
We got to see it in IMAX 3-D. I HIGHLY RECOMMEND YOU DON'T SEE IT THIS WAY. Yes, for this movie I am 100% against the 3D aspect. Why? I felt it ruined the simply stunning visuals in Oz. Seeing Oz, with it's vibrant colors and and wonderful villages and towns, would have been stunning enough. In 3D it became blurry and hard to appreciate because of the fast editing and movements. I mean, Disney of all studios, should know how special seeing a new world is. It was very reminiscent of seeing the beautiful animation in Fantasia the first time. But on a whole new level of beauty and color.
Now, to be fair, I am prone to migraines, so seeing almost anything in 3D is rough on me, but I really felt this movie didn't need it. It was so stunning and bold with the colors and the women (Mila Kunis, Michelle Williams, and Rachel Weisz) all looked spectacular in their costumes. I mean wow. GORGEOUS.
I also think the 3D intefered with the appreciation of the sets. Zach Braff, was there after the screening and spoke to the audience a little bit about the shooting of the movie. He talked about how the sets were NOT all CGed. The sets were built and the CG took over afterwards. But they got to work with some of the most beautiful and detailed sets, which are just…lost with the 3D.
The story itself was a bit predictable, in my opinion, but as a children's story, I don't think it's a bad thing. Zach also said that part of the goal was to create a children's movie that parents also really wanted to see. And I think they accomplished that fairly well. It is a LITTLE scary, especially for really young children, but it was still amazingly well done. The special effects were magnificent, I have to say.
I just wish they'd left out the 3D.
At least people have the option to see it without. 🙂
Either way, enjoy your journey in the wonderful land of OZ!
Bazingirl
Grand Master Blogger
Share and Enjoy