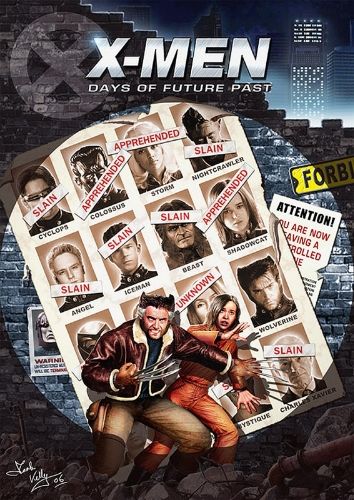 Image from: http://www.w3rkshop.com/
April 4, 2013 – Hollywood, CA
With a franchise that has already grossed nearly two billion dollars worldwide, X-Men: Days of Future Past the latest and most ambitious installment is set to become 20th Century Fox/Marvel's next big summer mega hit. Already the web is buzzing with plenty of cast rumors and excitement. This is easily one of the most anticipated films of 2014, leaving us with one big question – Is X-Men: Days of Future Past too big a project for Hollywood?
If you are like me then you've seen plenty of your favorite comic books, cartoons, etc. crash and burn a horrible death as they are adapted into films. Usually because of bad casting, terrible writing, crappy direction or the studios just didn't take the story serious enough to care. In some cases all of the above, but I won't mention any movie names like Spawn, Judge Dredd (1995), The Spirit, Catwoman or Batman Forever.
Since this is the sixth installment from the X-Men franchise, I don't believe that will be the case. But the most over looked fact is that this film is going to be a massive task to put together and will have tremendous pressure to not only live up to hype but also turn a profit. Failure means that a film like this may not get the green-light again.
Because of the large A-list cast, stories that take place in two different time periods, numerous amounts of costumes, computer generated sets and characters, extensive make-up effects, and massive stunts, I don't see this movie being made for under $200 Million. But truthfully we are probably looking at $400 million after post-production. Which means this film may have to make "Avatar-style" money to turn a profit.
It all makes you ask; can they pull it off, and still stay true to the essence of the story and keep the fans happy? Well here's what we know. It already has a superhero-size list of confirmed A-listers, which includes such talent like Oscar Nominee Ellen Page, Oscar Nominee Hugh Jackman, Oscar Winner Jennifer Lawrence, Golden Globe Nominee Michael Fassbender, Oscar winner Anna Paquin and Emmy Winner Peter Dinklage, and let's not forget about Ian McKellen, Patrick Stewart, Nicholas Hoult, and James McAvoy.


Image from aceshowbiz.com
First, we know that Bryan Singer and X-Men: First Class Writer/Director Matthew Vaughn decided early in pre-production to switch roles. Singer moved from Director/Producer. And Vaughn moved to Writer/ Producer. I'm not sure about the reasoning behind this but just as long as they keep the black leather jumpsuits in the past, I'm good with it. Second, the first big production addition was the Life Of Pi Oscar-winning VFX Group Moving Picture Company. So far so good, right? Well here's what I feel this movie will need to be successful:
Bryan Singer – Your mission if you choose to accept it…



As a writer, take two completely different casts from two completely different movies (X-men, and X-Men: First Class) and write a script in which all of your main characters are equally displayed in a manner that will satisfy the fans, the Studio heads, and satisfy the egos of your huge list of A-list Actors. At the same time you have to tell a story that makes sense. And don't forget this is a Superhero movie so that means you have to have enough action so that your audience doesn't fall asleep.

As a Director, manage a high powered group of A-list stars and their personalities while at the same time dealing with daily directorial duties: FX make up, elaborate stunts, practical and visual special effects, massive and expensive sets and insane wardrobe and costumes. Keep everything on time and under budget so that the film will be ready for its summer release date, less than 15 months after you start shooting.

As a Producer, produce a film with possibly ten A-list actors (or more), that takes place in two different time periods, (1970s and current day that is a doomed futuristic sociality that has been taken over by 30 foot tall robots) while keeping the film budget below a gazillion dollars.

The good news for fans is that Singer and Vaughn have made a combined six successful superhero films, so I think it's safe to say at this point they know what they are doing. Second, the Days of Future Past comic book storyline was so well written that if the writers even get it half right then it will be ten times better than the average superhero movie. Third, with a cast packed with Oscar and Emmy winners and nominees, the director will have to try hard not to fuck it up. Lastly, if The Avengers can turn a profit from their $225M budget than so can X-Men: Days of Future Past. The truth is Super Hero movies are what's hot now and I don't see that changing anytime soon. Who knows, maybe this could lead the way for a possible Avengers vs. X-Men movie. Don't laugh, stranger things have happened. Until then I will be holding my breath in anticipation to the 2014 summer release. Maybe I will dress like old man Wolverine for the premiere.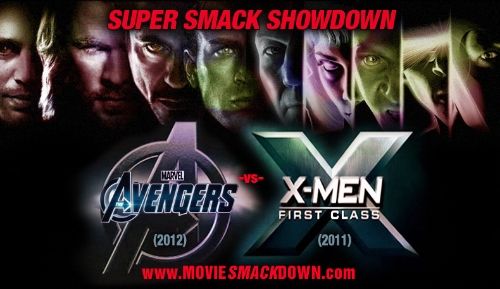 Image from moviesmackdown.com

By Ryan Isreal, Padawan Blogger